ProjectileX is the most powerful and easy-to-use projectile motion simulator available to students and teachers today. Specifically designed to provide the information that you need to know about a projectile in flight, whether it is an ideal motion projectile or one affected by linear air drag, ProjectileX quickly calculates every detail of its trajectory at the click of a mouse and graphs the projectile's flight path.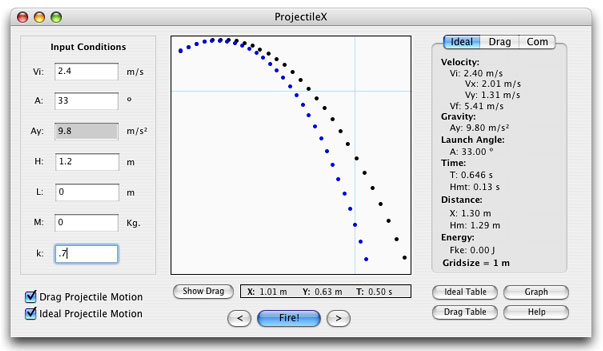 Just enter the velocity and the angle at which the projectile is being launched, and simply hit "Fire" to instantly have the projectile's motion appear on a graph. Click one of the table buttons to find all of the information you would need to know about the projectile's motion at any time during its flight. It's that easy, every time.

ProjectileX even stores the data for the last four projectiles fired in memory, so you can quickly compare different projectiles with just a few clicks.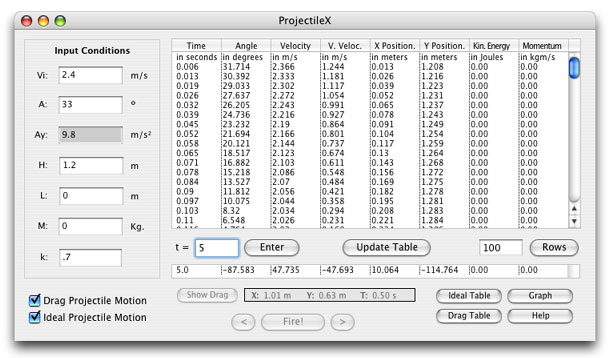 ProjectileX comes free with Physics 101 -- Praeter Software's highly-acclaimed physics calculation software. However, if you don't need all of the powerful features and time-saving benefits of Physics 101, then you can purchase ProjectileX by itself from the link below.
---


Questions About Ordering? Check out our order FAQ.
| | |
| --- | --- |
| | ProjectileX for Mac OS X was compressed for download with the latest version of Stuffit Expander, make sure you have the latest version of Stuffit before downloading. The Windows version is compressed with a standard zip file. |
---
Suggested Systems


NOTE: If you have an older system than this, the software may still work. We encourage you to download the demo to try it.
Mac

PC

Monitor resolution 1024x768 or higher REQUIRED
Mac OS 9.2.2 - 10.3 (Make sure you have the latest version of carbonlib for pre-X OS'es)
8 megabytes free RAM

Monitor resolution 1024x768 or higher REQUIRED

Windows 98-XP

8 megabytes free RAM